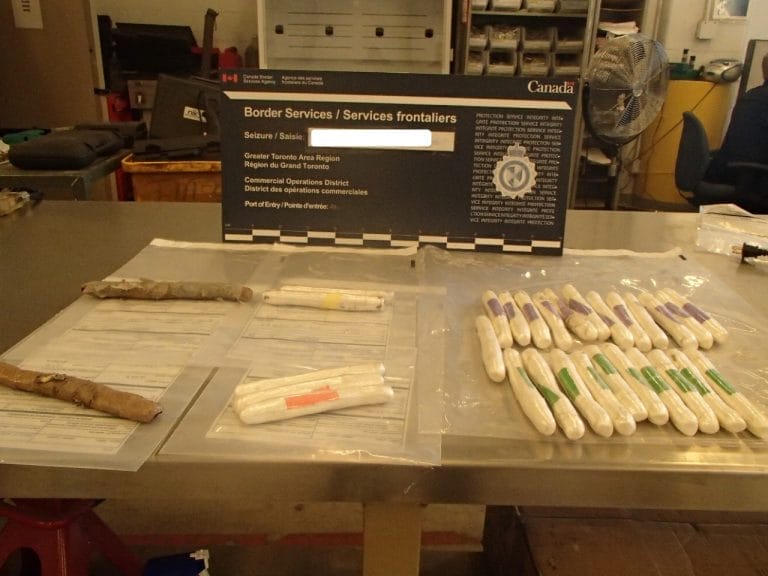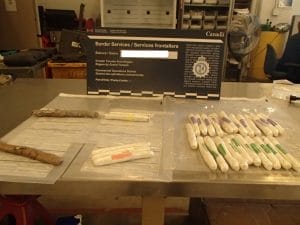 On December 3, 2012, Mr. G (name redacted for privacy), owner of the trucking company he was transporting for, was arrested after 23 kilograms of cocaine was found hidden in a secret compartment in his vehicle.
Obviously, this product was not something Mr. G had declared when crossing into Canada – he had advised CBSA that he had just picked up two loads of produce from California and nothing more.
CBSA officers didn't buy it.
A power drill was used on the exterior front wall of the trailer, and after it had penetrated through the wall of the trailer, it was removed – covered with a powdery white substance, later determined to be cocaine. Mr. G denied all allegations that he was involved in any drug trafficking, and claimed he had no knowledge of the drugs being in his vehicle.
Once drugs were found, the front wall of the trailer was removed, exposing 5 sub compartments, and 23 red bricks of cocaine, weighing 1 kilogram each, appraised at a value of 2 million dollars on the street.
Mr. G was arrested and charged with one count of importing a controlled substance, and one count of possession of cocaine for the purpose of trafficking.
He was the driver of the truck, the owner of the company, and the lone occupant in the vehicle at the time of his arrest. In acquitting Mr. G, the Judge noted several things of great importance:
1) The case against Mr. G was entirely circumstantial (in legal context, circumstantial evidence requires that an inference be made to determine a conclusion. Direct evidence, such as eye witness testimony, or DNA evidence, does not require that an inference be made). As this comment was made by the Judge, it is safe to assume that there was no physical evidence linking Mr. G to the crime (fingerprints on the drug wrapping, etc);
2) All of the officers who dealt with Mr. G described him as being cooperative, and showing no signs of suspicious behavior. This is crucial to Mr. G's defence that he was unaware of the contraband in his vehicle. CBSA officers are skilled in identifying suspicious and evasive behavior – their ability to do their jobs effectively depends on it.
3) The Crown's argument simply did not make sense. The condition of Mr. G's vehicle (his cargo being in disarray, mainly) is what originally drew suspicion from CBSA. The Judge found that it is unlikely any drug trafficker would exercise such a low level of care and diligence in preparing to cross the border with such a significant quantity of drugs. Had Mr. G known what was truly in his trailer, he likely would have taken much more time to appear organized, and as such, not draw suspicion.
After nearly 5 years awaiting his fate, Mr. G walked out of the B.C. Supreme Court today a free man – something he likely will never take for granted.
The Courts of British Columbia are determined to curb the increasing volatile consequences of drug trafficking. While it has always been harmful to our communities, the number of fatalities associated with illicit drug use is growing ever higher. Our government is now taking a different approach to the problem by focusing on harm reduction for drug users – this includes safe injection sites, and immunity from prosecution for good Samaritans who seek help for drug overdoses. It does not include leniency for drug dealers: see our blog post on this topic.
Lengthy custodial sentences are becoming more and more common. It is increasingly obvious that conditional sentences have not adequately served as deterrents for drug traffickers to cease their illegal activities. Amendments to the Criminal Code in the coming years will likely bring even tougher penalties.
As demonstrated in Mr. G's case, legal issues related to importing and trafficking are highly complex. A conviction for such a charge will permanently bar you from entering the United States, and will likely result in a host of other negative consequences. It is also wise, when traveling between the USA and Canada, to know what goods you are and aren't allowed to transfer between borders.
If you have been charged, or if you are under investigation, it is strongly recommended that you contact our office to discuss your options. We are conveniently located minutes from the Brighouse station of the Canada Line, making our office easily accessible from various spots in Metro Vancouver. We are proud to provide services to all cities in the lower mainland including Richmond, Burnaby, Surrey, Langley, Port Coquitlam, Abbotsford, and Chilliwack. We also service residents located in the interior/northern areas of BC including but not limited to Kelowna, Kamloops, Penticton, Fort St. James, and Nelson.