High on the list of things that have changed due to COVID-19 is our perception of what truly qualifies as an essential service – the transportation of goods by freight haulers, grocery stores and pharmacies, waste management and sanitation, and the list goes on. Service providers in these sectors are now being recognized for their significant contributions to our communities. In recent weeks, safety measures have been formulated and established, such as the installation of acrylic screens to act as a barrier between cashiers and customers, temporarily suspending the use of cash, and constantly monitoring supply stocks and evaluating the best methods to ensure that protective personal equipment is available to those working in healthcare.  
But what about the justice system?
---
On March 18, 2020, court operations were abruptly suspended in BC. Mass adjournments of almost all trials, for those detained and those awaiting trial free in the community, has created uncertainty for accused persons and for their counsel. It has also highlighted systemic flaws that have been dismissed for far too long.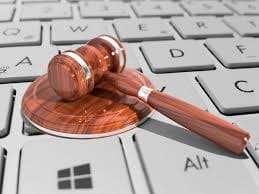 The Court of Appeal of BC was the first to announce that, beginning May 4, 2020, appeals (all appeals, not just those deemed urgent) would be heard using the platform "Zoom". A notice from the Chief Justice of British Columbia elaborated further and noted that the courts would use Zoom only until the government supplied a "permanent, enterprise videoconferencing solution", lending likelihood to the idea that some of the interventions relied upon during the COVID-19 pandemic could become permanent adaptations.
COVID-19 emphasized the court systems' vulnerability to interruption. At some point along the line, preference to proceed with business as usual was prioritized over adjusting to function optimally in a society that is increasingly reliant on digital mechanisms.
Currently, much of the paperwork involved in criminal proceedings is processed manually by court services staff (with the exception of some electronic documents) at the registry. Rules for fax filing vary by registry, which often creates confusion for counsel.
Here are some examples of what modernization could look like:
| | |
| --- | --- |
| Change | Effect |
| Online court schedule for all levels of court | Counsel can manage their court schedule with more flexibility and can coordinate appearances in various jurisdictions with other counsel to maximize efficiency |
| Video-conferencing from correctional facilities to the office of counsel and to the court | Clients have more personal interactions with their counsel. Visits to the correctional centre can be limited (not replaced completely). If those in custody can appear exclusively by video, it reduces the number of inmates being transported via vehicle, saving time, money, and sheriffs' resources |
| Enhanced online filing for court documents | Fewer issues with errors relating to form. Court services staff spend less time on data entry manual processing. |
| Digital court files | Court services staff can access all materials in one system and forward materials as needed to judicial staff. Storage of materials digitally saves an enormous amount of space. Archived files can be easily obtained rather than being stored "offsite". Enhanced security for all files. Counsel could access court documents, such as a Record of Proceedings, online instead of having to make requests to court services staff |
| Digital disclosure transfer | All disclosure would be digitized, allowing law enforcement, crown counsel, court staff, and defence counsel to exchange documents without delay. Significant reduction in paper usage and courier/postage costs. |
While other sectors prioritize adopting innovation, the court system has all-but ignored important opportunities for tech reform. Budgetary limitations are a frequent excuse. And of course, cost is an important factor – but it should not override value. The technology exists and has the potential to be extremely advantageous in the courtroom, and is often utilized more frequently in more remote jurisdictions such as Prince George, BC and throughout the Yukon Territory. Due to the logistical difficulties associated with residing in a remote location, video-conferencing is often used at trial for out-of-town witnesses.  
Before the era of social distancing and COVID-19, there seemed little reason to forge ahead towards modernization with any sense of urgency – the old adage "if it ain't broke, don't fix it" comes to mind – but now, we simply don't have a choice.